Welcome to Harborview's First Blog Post!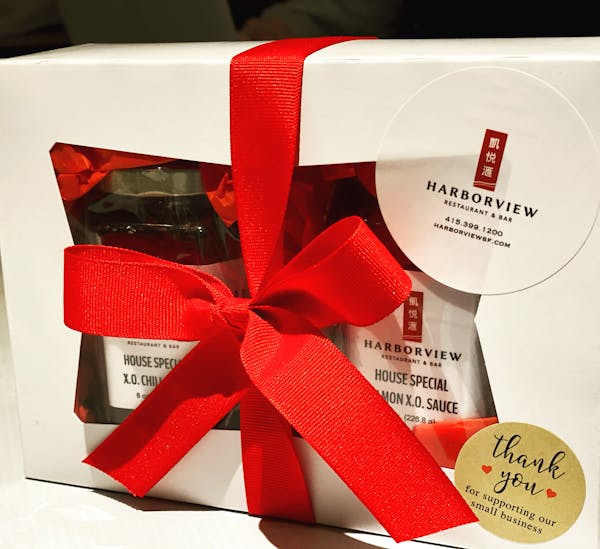 It has already been nine months since the start of the first Shelter-In-Place order in San Francisco. As we approach the holidays and reflect on this year, we feel very lucky to still be here sharing our passion for high-quality Cantonese Chinese cuisine in the San Francisco Bay Area and beyond. Early in the year, our business projections for 2020 were very, very good. We already had many events and reservations lined up, but of course, things do not always go according to plan. We ended up throwing our original marketing plan out the window and restarted from scratch. Pivoting was a new term that we learned and quickly adopted.
Some may view 2020 as a totally unsatisfying or even devastating year, but what we have learned is that, in order to survive and succeed, we need to work harder and smarter. We also need to constantly find ways to grow and evolve as a business and restaurant, especially as a Chinese restaurant, in San Francisco. It is oh so difficult!
During the sometimes gloomy days of Shelter-In-Place, when takeout sales were minimal, our team worked together to brainstorm new ideas. We plowed through and created some really fun things. Our summer and fall were actually not so bad!
Here are some highlights of our roller coaster year:
January
Chinese New Year of the Rat - What could go wrong?
February
Uh oh - something doesn't feel right.
March
Shut down for the first time since we opened. Created a GoFundMe campaign and raised almost $25,000 for our staff health insurance expenses. Thank you from the bottom of our hearts. This was so heartwarming! We also volunteered to help distribute meals to seniors with Self Help for the Elderly.
April
Reopened for takeout orders. Slowly, but surely we built a loyal following of online customers for our dim sum, seafood, house specialties, and signature cocktails! Wanting to contribute to essential frontliners, we partnered with Chinatown Community Development Center and Chinese Restaurant Foundation to donate over 1600 meals to Chinese Hospital and SFPD staff, as a thank you for their service.
May
Brainstormed and created our first batch of jarred X.O. sauces. SIP sure got the creative juices flowing!
June
Refurbished furniture and hand built partitions for separating guest seating in preparation for outdoor patio dining. We have received very positive feedback and appreciation for creating a safe and comfortable environment for our guests. The trips to Lowes and Home Depot really paid off!
July
Hosted our first successfully socially distanced pandemic wedding, but the media also misreported about another wedding that caused confusion and for us to receive harmful threats and messages. This seemed like a low point of the year, but we are very fortunate that there had been no reported cases from staff or customers. Thank you for following our health and safety guidelines as recommended by the City and County of San Francisco.
August
Started our partnership with SF New Deal and Great Plates to prepare meals for homebound seniors and individuals. To date, we have prepared thousands of meals for those in need, but this program has also been a lifesaver to keep more staff employed. We donated additional meals to seniors and families who requested help.
September
Orange Sky Day - couldn't eat inside, couldn't eat outside either. We are thankful for the brave emergency responders.
October
Brought back our mini Pumpkin Mochis for Halloween. Trick or Treat! Give me something good to eat! Then came the Fried Carrot Dumpling in time for Thanksgiving. So fun to eat!
November
Our House X.O. Chili Sauce was featured in the San Francisco Chronicle as a top holiday gift recommendation. People have been raving about our "boujee" (luxurious in lifestyle yet humble in character) sauce. Here are some of our favorite testimonials!
1. "My brother received your House Special XO Chili sauce as a gift! His remark was that they were heavenly!"
2. "They were meant for Christmas gifts, but it is so tasty that I am into my second jar already so I needed to reorder"
3. "OMG! Received my order today, it is soooooo good! I am going to order 4 more!"
Free shipping to all U.S. states on orders of 4+ jars. Hurry now to ensure delivery by the holidays!
December
If you do not feel like cooking and want some quality Chinese food and drinks, please consider Harborview. Our team is waiting to serve you. Online orders of $100+ will receive a free 4oz jar of our X.O. Sauce. In lieu of the free X.O. Sauce, you may also opt-out and we will donate a meal to someone in need.
We have many holiday gift and meal ideas, so check back often for updates. We still have a challenging road ahead, but we are hopeful for a better 2021. We wish you and your families a safe and warm holiday season. Thank you for all your love and support!

With Gratitude,
Harborview Restaurant & Bar (Karen Liu)